STEARATES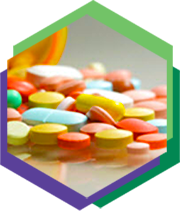 Mallinckrodt Pharmaceuticals offers high quality Stearates to support your company's dosage formulation work. Mallinckrodt Stearates have been manufactured at our St. Louis plant for nearly a century. Stearates are manufactured with an eye on purity, consistency and uniformity. Pharmaceutical Stearates are manufactured to comply with global compendia and regulatory standards. While many of our products are routinely certified to meet the National Formulary (NF), European Pharmacopoeia (EP), British Pharmacopoeia (BP), and Japanese Pharmacopoeia (JP) requirements for purity and functionality related attributes, we will consider certifying any of the products shown to a particular global compendia monograph upon customer request.
As an added value to our customers, Mallinckrodt controls physical parameters not specified in the global compendia that contribute to consistent performance, such as particle size and bulk density.
High-purity raw materials, compliance with cGMP requirements for APIs and vast technical expertise all contribute to making Mallinckrodt the world leader in the production of high-quality, reliably performing Stearates for the pharmaceutical industry.
| | |
| --- | --- |
| Calcium Stearate NF (Powder) HyQual™ Kosher Passover | SDS |
| Calcium Stearate NF (Fine Powder) HyQual™ Kosher Passover | SDS |
| Calcium Stearate Kosher Passover Food Grade HyQual™ | SDS |
| Magnesium Stearate NF VG (Impalpable Powder) Food Grade HyQual™ | SDS |
| Magnesium Stearate NF/EP/JP (Powder) Kosher Passover HyQual™ | SDS |
| Magnesium Stearate NF Kosher Passover HyQual™ | SDS |
| Stear-O-Wet™ M | SDS |
| Aluminum Monostearate NF Powder HyQual™ | SDS |
| Aluminum Monostearate NF Powder HyQual™ Vegetable Grade | SDS |
| Aluminum Monostearate NF Fine Powder HyQual™ Vegetable Source | SDS |
| Magnesium Stearate Kosher Passover Food Grade HyQual™ | SDS |